A new pharmacy experience awaits you. 
Come discover the difference a personalized pharmacy experience can be like!
Sina Pharmacy is a full service pharmacy offering full prescription dispensing services, compounding services, and natural/traditional supplements from excellent suppliers. We are focused on providing the best possible care personalized to your health needs.
We are a proud member of PCCA (Professional Compounding Centers of America) and have an onsite accredited PCCA Compounding Lab designed to meet all your compounding needs.
Our team of licensed pharmacists  are available to provide you with specialized consultation services to help you manage and achieve optimal health outcomes. This includes reviewing your prescription medications, non-prescription medications, and natural health products and check for drug interactions, drug-nutrient depletion, advice regarding best timing to take a medication, and any other questions related to a particular medication or to your specific health concerns.
For those patients who cannot make it to the store in person or who would benefit from regulated medication dispensing we offer home delivery services  and blister card/compliance medication packaging.
We offer a competitive dispensing fee.  We work closely with medical clinics and doctors to ensure that our patients are receiving the best medical care and attention.
Medication and Needle Disposal
Expired and unused prescription medications are often left lying in medicine cabinets and cupboards. This leads to their potential misuse and abuse. Drugs that have been prescribed to treat a medical condition, or ones that are sold over-the-counter, may not be safe for everyone. Safe disposal of unused and expired drugs and needles ensures they do not end up in the wrong hands.
Help ensure that prescription drugs and other pharmaceuticals do not pose a risk to you and to others.
Check your medicine cabinet and remove all expired and unused prescription drugs, over-the-counter medications and natural health products. If you do not know if a drug is still safe, check with our pharmacist.

Bring unused and expired prescription drugs, over-the-counter medications and natural health products to our pharmacist for proper environmentally friendly disposal.
Do not flush medicines down the toilet or sink.
Transferring your prescription is EASY
If your prescription(s) are at another pharmacy and you would like to fill it at Sina Pharmacy, the transfer is very quick (about 5 minutes) and easy. We can transfer one or all of your prescription(s) from any pharmacy around Canada to Sina Pharmacy within a few minutes. Please give us a call if you would like to transfer your prescription(s) to Sina Pharmacy.
Our customers Are Happy with Our Service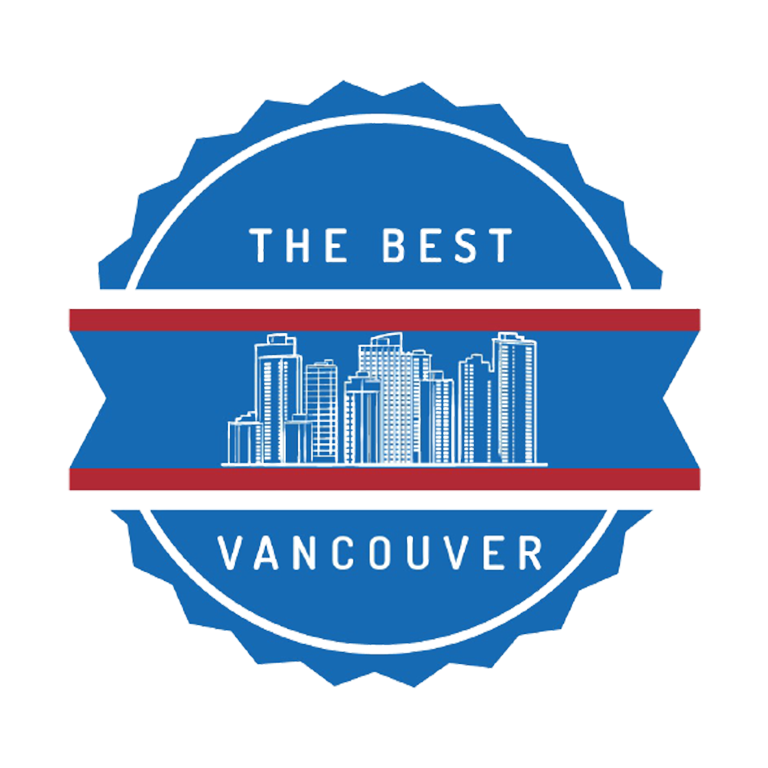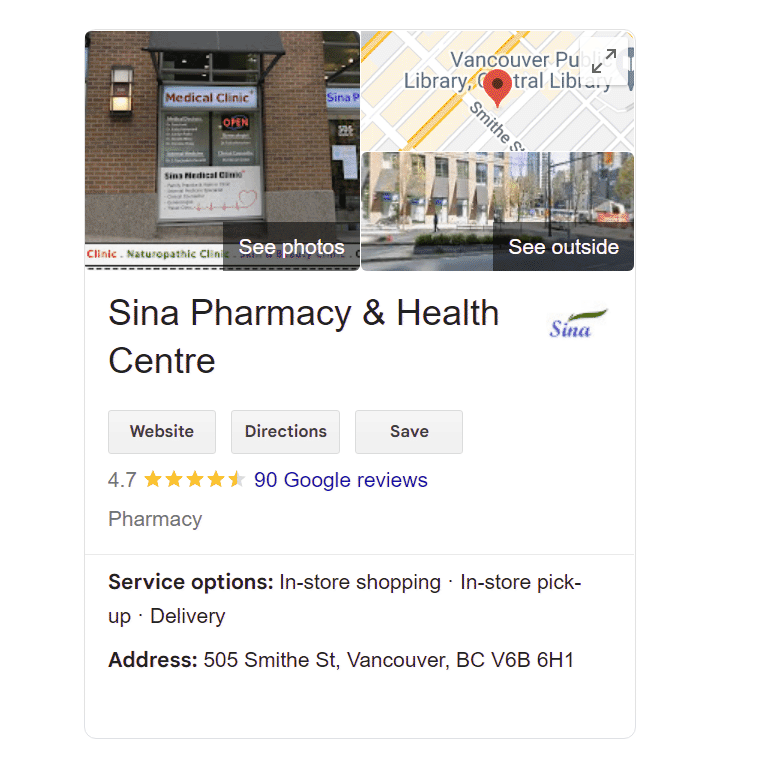 We receive great feedback/reviews from our customers on google. Our google business page has more than 115,000 visits per month. [updated Dec 15, 2021]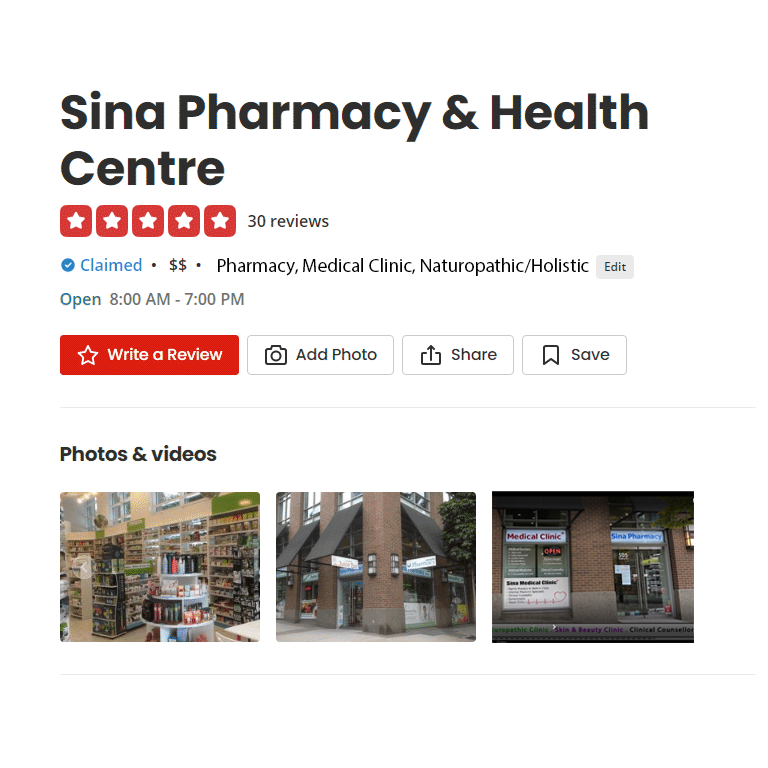 Yelpers love our Health Centre. To read more about what our customers have told about us click here [updated Dec 15 2021]
We use Ecolo-Vial vials to dispense prescription medications as they are Eco friendly and better for the environment compared to conventional plastic vials.
This vial is a revolutionary innovation in vial conception attributed to its novel eco-design. Made entirely of 100% recyclable polypropylene, the vials have come to redefine and simplify the vial market for pharmacists and patients alike.
– Very child-resistant yet easy to open for adults: simply depress the trigger an lift the lid simultaneously.
– The most eco-friendly on the market. Compared to other options
– Uses up to 35% less plastic to manufacture.
– Generates up to 100 times less CO2 during production
– The vials are automatically closed upon the molding process thus greatly reducing contamination concerns.
– 100% recyclable
– Canadian made vials.

SINA PHARMACY HAS BEEN SELECTED AS ONE OF TOP 3 PHARMACIES IN VANCOUVER FOR THE PAST 6 YEARS.