Posted on
Clinical Joint Event between Sage Clinic and Sina Pharmacy
Topic: Pre-Conception Care: How to Prepare Your Body & Home for a Baby
By: Dr. Giselle Lefebvre, ND from Sage Clinic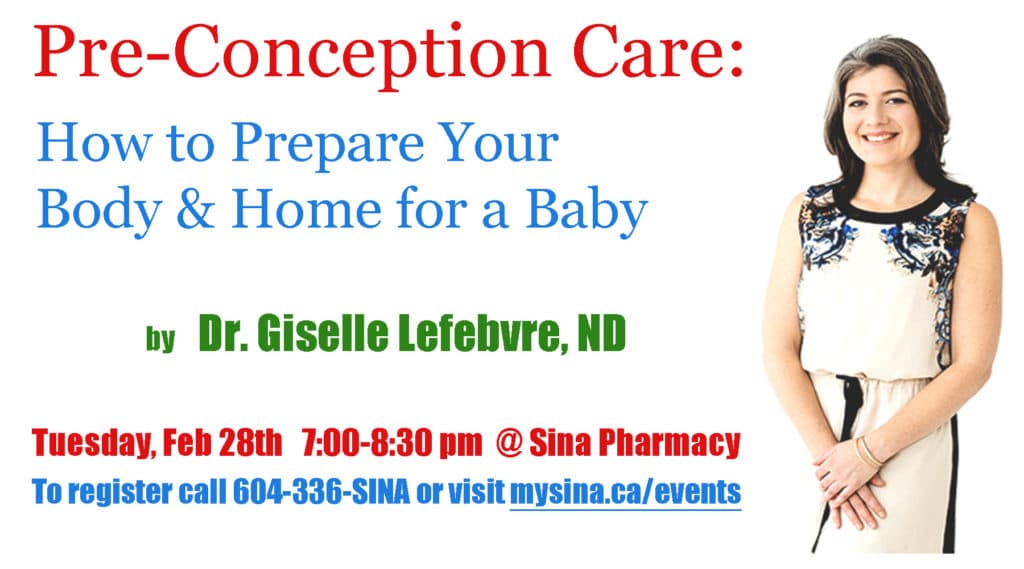 When: Tuesday, February 28th  7:00-8:30 pm
Where: Sina Pharmacy  (505 Smithe St., Vancouver, BC)
Details: In this informative talk, Dr. Lefebvre will share healthy choices to support new life. Learn family planning tools, optimize your body for conception, and how to understand your fertility window. Learn the real information on birth control, miscarriage and birthing.
About Dr. Giselle Lefebvre, ND
Dr. Giselle Lefebvre, ND is a Naturopathic Physician who graduated from Canadian College of Naturopathic Medicine in 2003 and has been practicing at Sage Clinic in Yaletown Vancouver.
Dr. Lefebvre is board certified in Acupuncture, Injection Therapies, and has prescriptive authority. In addition to being a Naturopath, she is also a birth doula and a passionate home birth supporter. Her post-graduate training includes Pediatric Health Care, Obstetrics, the Beyond Addiction program and Healthy Breast Education by her mentor Sat Dharam Kaur. She focuses on whole family healthcare support.
One of the areas Dr. Lefebvre's practice focuses on is Family Health Care. This includes Family Planning, Hormonal Health, Libido Support, Sexual Function and Well Child Visits. Whether you plan to have a baby or not, learning the ins and outs of your reproductive system are essential. Once you have a baby, how do you meet their health care needs? Dr. Lefebvre has the tools to deal with your concerns.
You can learn more about Dr. Lefebvre and the services she offers by visiting www.doctorgiselle.com