Posted on
Clinical Joint Event between the IV Wellness and Sina Pharmacy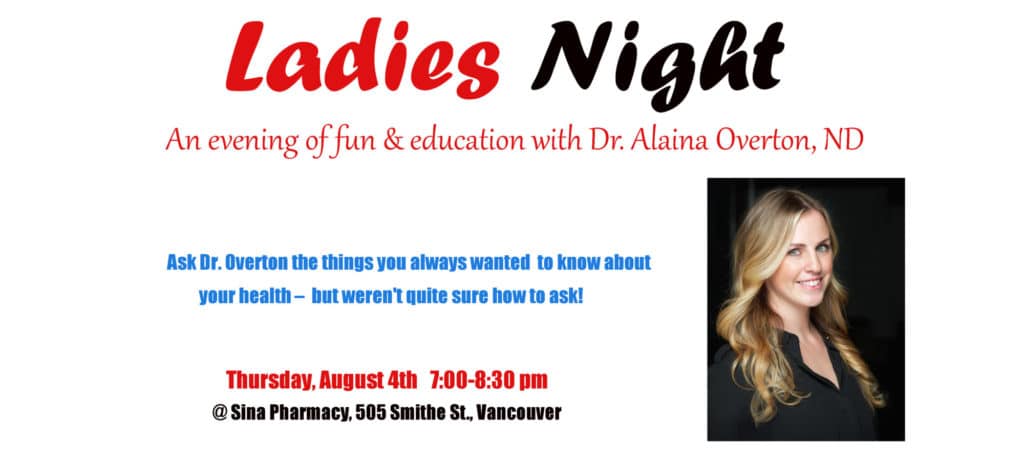 Topic: Ladies Night – An Evening of Fun and Education with Dr. Alaina Overton, ND
By: Dr. Alaina Overton, ND from IV Wellness Boutique
When: Thursday, August 4th  7:00-8:30 pm
Where: Sina Pharmacy  (505 Smithe St., Vancouver, BC)
Event Details:
-Ticket Price: $5 (+ bring a guest along for FREE) *** Purchase your ticket through EventBrite Website ***
-Chance to win great prizes from the IV Wellness Boutique and Sina Pharmacy
-Complementary week of Yoga & Fitness Classes for all attendees (offered by Yaletown Oxygen Yoga)
-Snacks and refreshments will be provided (complementary of Sina Organic Juice Bar)
In this seminar, Dr. Alaina Overton, ND will review the things you always wanted to know about your health – but weren't quite sure how to ask including:
-Birth Control Basics
-Brief discussion about the various natural, barrier, hormonal &  IUD methods, their pros & cons, who the ideal candidates for each are as well as common myths and some important facts all women should know
-PAP 101
-Discussion about BC PAP recommendation guidelines, who should get what when and why, and a brief discussion about abnormal results, what they mean and what your next step should be
-Libido – why don't I have one?
-Common reasons for why libido can decrease and some basic tips for helping restore including naturopathic treatment options we offer in our clinic (hormone testing, nutritional and supplemental guidelines, counselling, acupuncture)
-Common female health conditions- and how to fix them
-A brief discussion regarding the most common and most frustrating female health concerns (UTIs, Yeast Infection, and Bacterial Vaginosis)
About Dr. Alaina Overton, ND
As a Naturopathic Physician, Dr. Alaina Overton provides medical care with an emphasis on natural healing. Dr.Alaina considers health to be an evolving state of physical, mental and emotional wellbeing, and is driven by passion to better understand this dynamic. Entrusting an evidence-based approach, and through her knowledge of the body and her philosophy that each person has a unique path to optimal health, Dr. Alaina will help you achieve your health goals. With the cause as her focus, Dr. Alaina's emphasis in treatment is to alleviate symptoms and help you achieve long-term healing.
Areas of Interest:
– Fatigue & Stress Management
– Anxiety & Depression
– Hormonal Imbalance
– Weight Management
– Digestive Dysfunction & Skin Health
– Thyroid Disorders & Adrenal Dysfunction
Treatments:
– Clinical Nutrition
– Lifestyle counselling
– Injection Therapies
– Physical exam & laboratory assessment
– Bioidentical Hormone Replacement Therapy
– Prescribing Authority
– Acupuncture
---
Seats are only available to registered attendees with a ticket. Please purchase you ticket through EventBrite Website.