Posted on
Natural Remedies for Seasonal Allergies
Where: Online Webinar
Topic: Natural Remedies for Seasonal Allergies
Date: March 16, 2021
Time: 06:00 PM Pacific Time (US and Canada)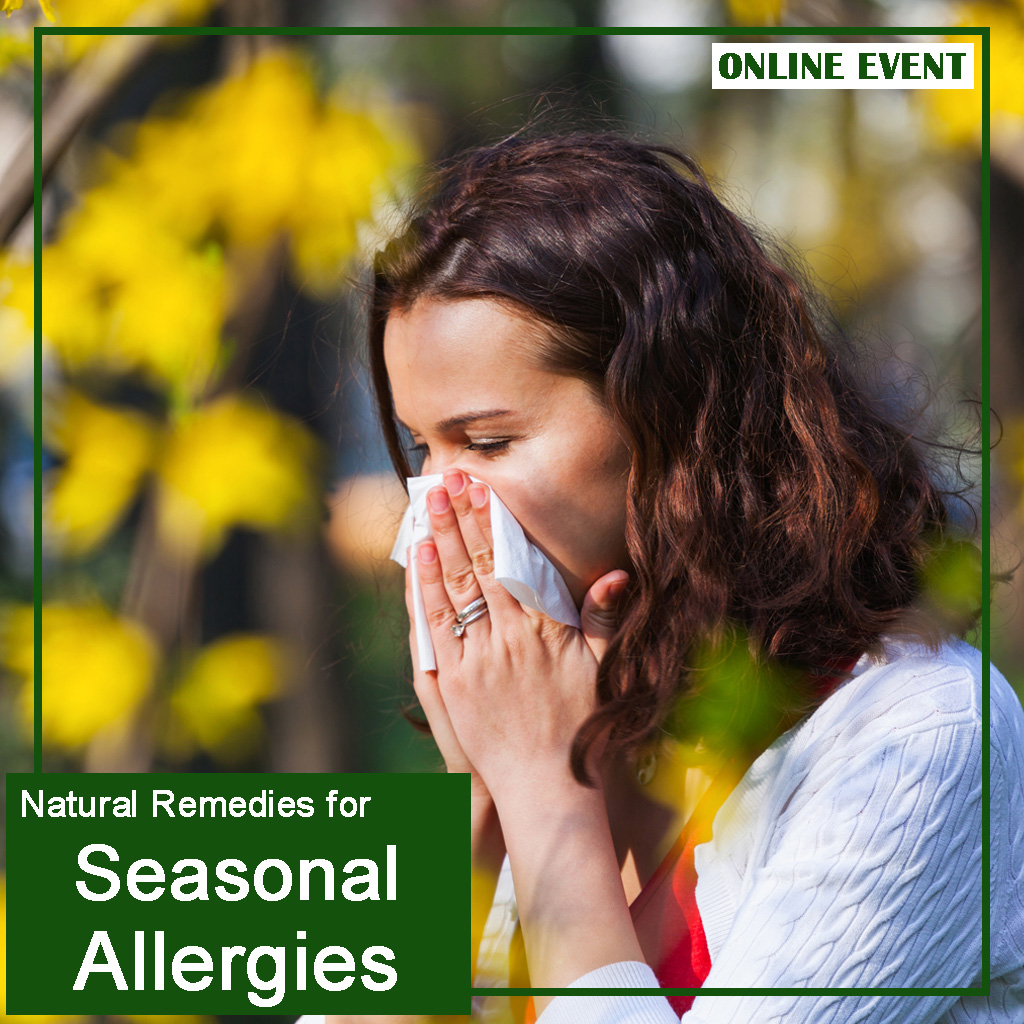 Presented by: Dr. Miranda Wiley, ND
Use this link to join the meeting: https://bit.ly/3bE470U
Meeting ID: 767 3759 1530
Password: sina123
Spring is finally here which means that BC's long allergy season is just around the corner and if you suffer from seasonal allergies, you've probably got a love/hate relationship with spring. It's tough to go outside and smell the roses when you're snuffy and sneezy. The birds might be singing, but your sinuses are screaming for relief.
Oftentimes, people reach for over-the-counter antihistamines which block the chemical histamine which the immune system produces when a person is exposed to an allergen to lessen the severity of their allergic symptoms and they can be effective. But these medications can also have negative side effects such as drowsiness, fatigue, headache, and nausea. Some people also use nasal corticosteroids, but these can leave the nose feeling dry and irritated.
Because of this, many allergy-sufferers are searching for more natural ways to treat their symptoms like using herbs, eating certain foods, and Sublingual Immunotherapy (a.k.a SLIT) treatment. SLIT therapy refers to repeatedly exposing you to small doses of what the patient is allergic to (allergen) to make the patient less sensitive to it. Unlike antihistamines and other medications that treat allergy symptoms, immunotherapy treats the condition itself and over time it desensitizes the patient to the allergen.
Join Dr. Miranda Wiley, ND for an overview of the treatment options for allergy sufferers, from herbs to Sublingual Immunotherapy treatment to lifestyle interventions. She will also be available to answer any questions relevant to this topic. For your information, Dr. Wiley offers this therapy in her practice at Sina Naturopathic Clinic and the fee for the test is $70 and it may also be covered by extended health insurance companies.
Event's Recap:
Sina Naturopathic Clinic – Naturopathic Support for Seasonal (and other) Allergies – Dr. Wiley, ND