Posted on
Clinical Joint Event between the IV Wellness and Sina Pharmacy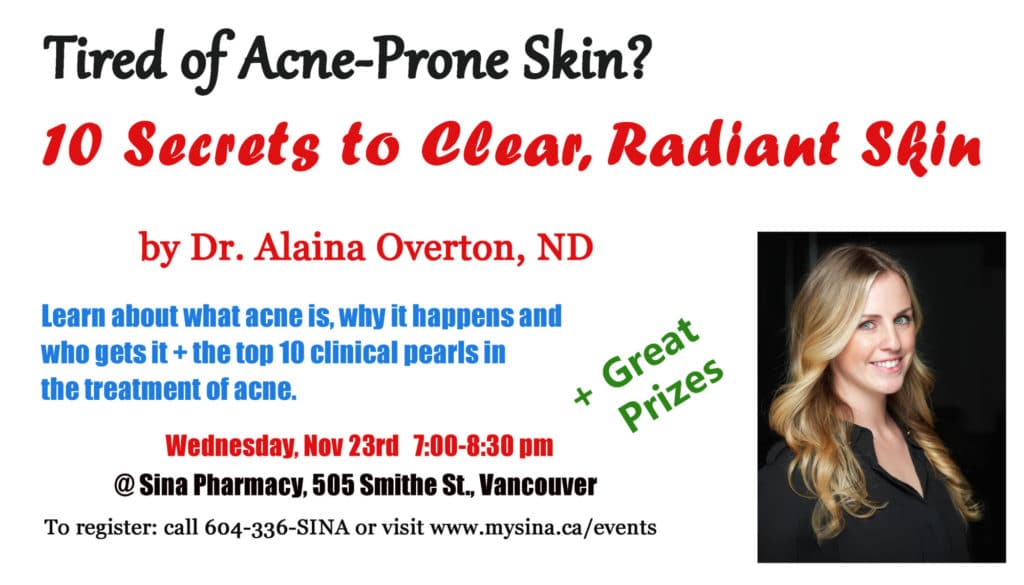 Topic: 10 Secrets to Clear, Radiant Skin
By: Dr. Alaina Overton, ND from IV Wellness Boutique
When: Wednesday, November 23rd  7:00-8:30 pm
Where: Sina Pharmacy  (505 Smithe St., Vancouver, BC)
Event Details:
-Chance to win a complimentary skin consultation with Dr. Alaina at The IV Wellness Boutique
-Chance to win great prizes from Sina Pharmacy
-Snacks and refreshments will be provided (complementary of Sina Organic Juice Bar)
In this seminar, Dr. Alaina Overton, ND will review what acne is, why does it happen, and who gets it? Dr. Alaina will discuss the top 10 clinical pearls in the treatment of acne, including the role of hormone imbalance, the importance of gut health and immune function, as well as the top 5 nutrient deficiencies contributing to acne.  She will also compare conventional and natural therapies and talk about her favorite skin care tips and treatments!
About Dr. Alaina Overton, ND
As a Naturopathic Physician, Dr. Alaina Overton provides medical care with an emphasis on natural healing. Dr. Alaina considers health to be an evolving state of physical, mental and emotional wellbeing, and is driven by passion to better understand this dynamic. Entrusting an evidence-based approach, and through her knowledge of the body and her philosophy that each person has a unique path to optimal health, Dr. Alaina will help you achieve your health goals. With the cause as her focus, Dr. Alaina's emphasis in treatment is to alleviate symptoms and help you achieve long-term healing.